Never agree to printer updates
Today I have unpacked a set of third-party toner cartridges for a laser printer and found a great notice there: "Never agree to printer updates".
What a disastrous idea! Here we talk about updates to printers and securing your printer on LAN with CUPS.
Some printer manufacturers might go for extortion and force a cartridges renewal way before it is really necessary. "Drying up" laser printers which use dry toner. Cartridges are likely getting thrown out still being half-full and mechanically intact. Sad and very harmful for environment.
It makes sense to refill. But then you need to cheat the printer's firmware forcing you for no good reason into buying "original" cartridges. Third-party companies buy used cartridges and refill. The OEMs try to prevent this business in software aparently. And that is how I got beautiful instructions to the third-party cartridges: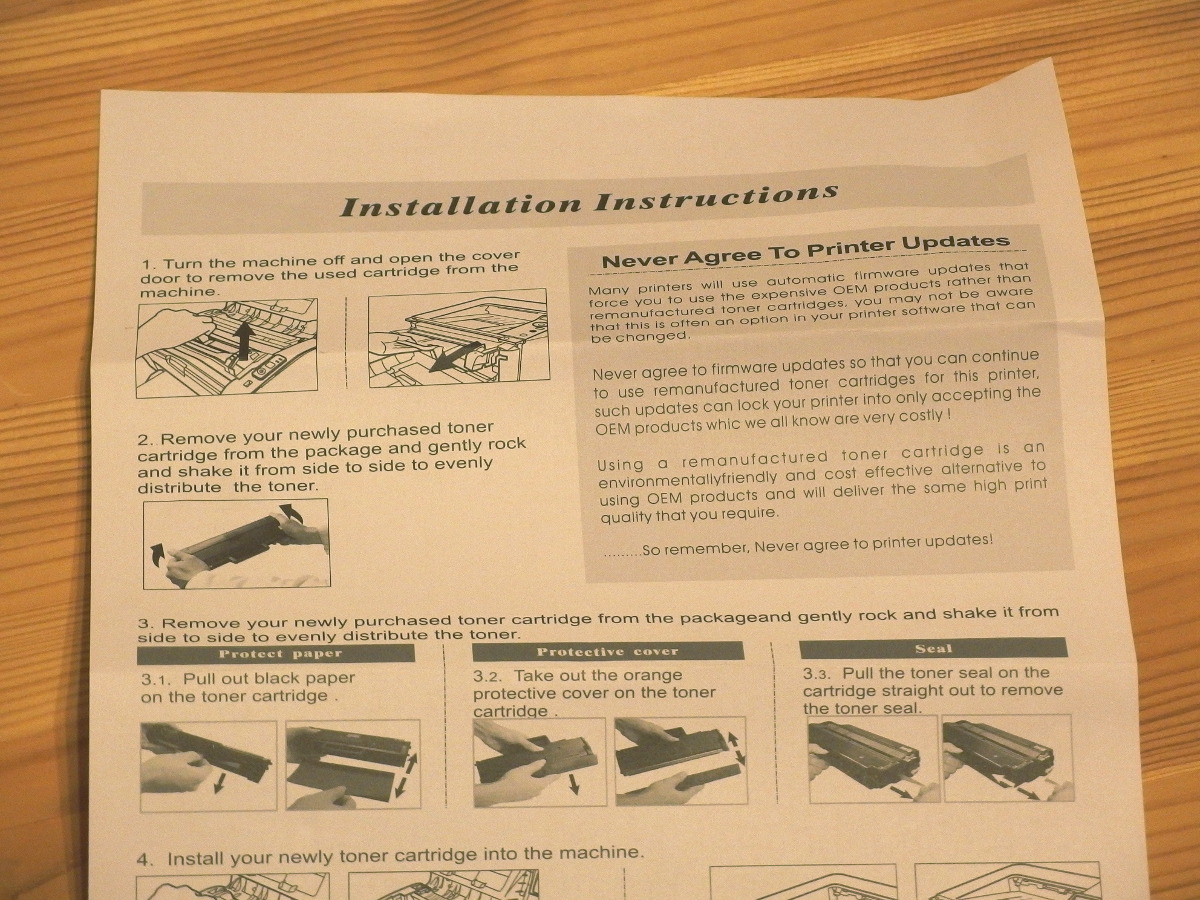 Never agree to printer updates - Click image to zoom
The instruction says: "Many printers will use automatic firmware updates that force you to use the expensive OEM products ... Using remanufactured toner cartridge is environmentally friendly ... So remember, Neve agree to printer updates!"
Isn't it beautiful?
The fact is, you have to update your devices for security reasons. Breaches are identified and patched. If you do not patch your device it might be abused by an attacker and either brought out of order or misused for e.g. cryptojacking.
Likely, similar to SOHO routers, mid-priced or inexpensive printers will not get enough security updates in the long run. For the routers we could use free firmware, DD-WRT or Tomato, maybe OpenWRT.
My solution for printing would be to build a CUPS server with a raspberry pi or another small Linux computer, maybe a router, and connect a SOHO printer to it over USB, leaving it off the network and connecting to the network only for updates.
Don't forget to set up unattended-upgrades package on the Linux printing machine.
Images copyright information
The image in this article is taken by me, Zaur Molotnikov. It is published under Create Commons Attribution-ShareAlike 4.0 International: https://creativecommons.org/licenses/by-sa/4.0/legalcode

Thanks for reading my blog!

Created: 20/11/2018

Last edited on: 20/11/2018